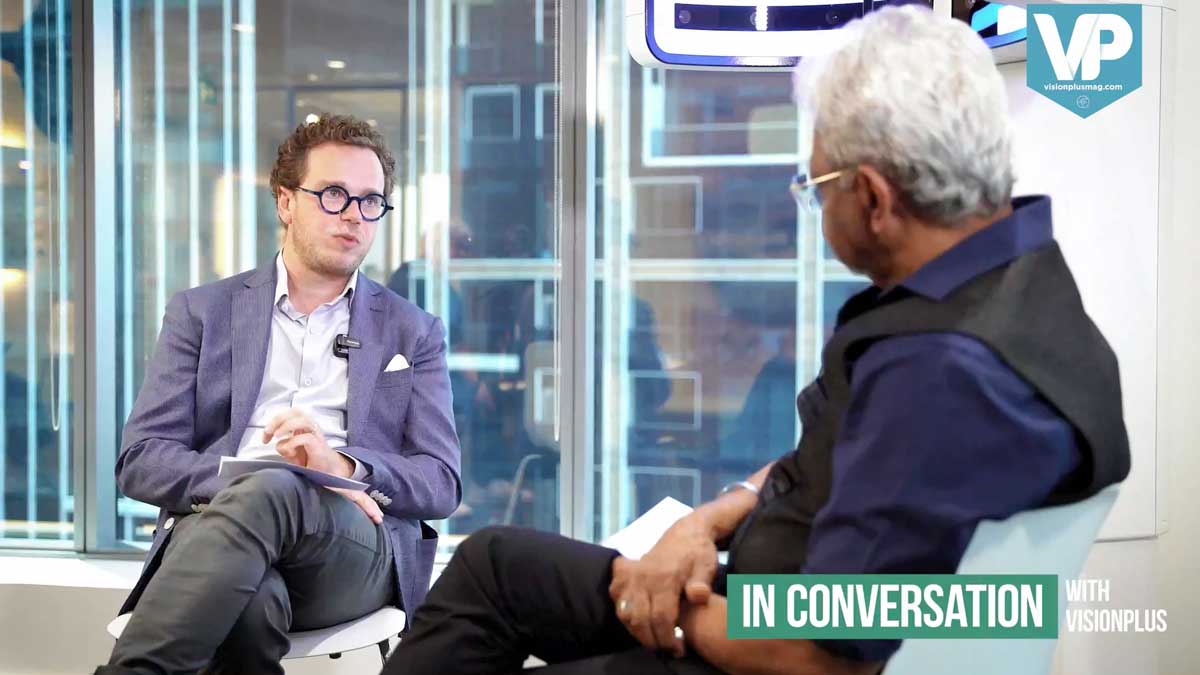 بودوان سيريا من زايس
في حوار مع فيجن بلس
تواصل سيراج بولار، رئيس تحرير مجلة فيجن بلس، مع بودوان سيريا، المدير المسؤول عن زايس فيجن كير الشرق الأوسط وأفريقيا في دبي. وقد ناقشا مجموعة كبيرة من الموضوعات المتعلقة بصناعة البصريات في الشرق الأوسط وزايس – بداء من إرث الشركة إلى مهمتها، التحديات التي تواجهها وخططها المستقبلية.
وقد ألقى الضوء على جوانب متعددة سوف تمهد الطريق للعلامة خلال السنوات القادمة.
اضغط على مختلف الأختام الزمنية لمشاهدة الأسئلة الفريدة على يوتيوب:

---
00:28  في البداية، ما هي رؤية مجلس ادارة زايس لمنطقة الشرق الأوسط؟ وعلى المستوى الفردي، ماذا تود أن يكون إرثك كرئيس مجلس إدارة لزايس فيجن كير الشرق الأوسط وأفريقيا؟

---
04:45 في رأيك، ماذا يميز سوق الشرق الأوس عن باقي السوق العالمية؟ هل واجهت أي تحديات فريدة لزايس في هذه المنطقة؟

---
09:20
ما هو تقييمك لآخر 5 سنوات لزايس في هذه المنطقة؟ غالبا ما تعرف الأزمات بأنها تمثل فرصا أيضا. هل لديك أي تجربة مماثلة خلال فترة الجائحة؟
---
12:30  في وقت يبدو فيه أن الأمور تعود إلى طبيعتها بعد عامين، يشهد العالم تحديات جديدة مع إمكانية اندلاع حرب عالمية، وأيضا اضطراب سلسلة الإمداد من الصين. كيف تؤثر هذه الأوضاع على شركات صناعة العدسات البصرية؟

---
15:20
السنوات العشر الأخيرة شهدت تأثيرا أعلى للتكنولوجيا على صناعة العدسات البصرية. هل أكون محقا عندما أقول إن زايس سوف تكون قريبا شركة لتكنولوجيا العدسات بدلا من شركة لتصنيع العدسات؟
---
"We believe in VisionPlus EXPO", says Baudouin Sériès of #ZEISS – the global lens technology and innovation leaders.
Find out what makes VisionPlus EXPO 2022 so unique. Come to Dubai. Let's Celebrate Eyewear!

VisionPlus EXPO 2022 — 19-20-21 October | Dubai
Your New Destination For International Eyewear Shows.